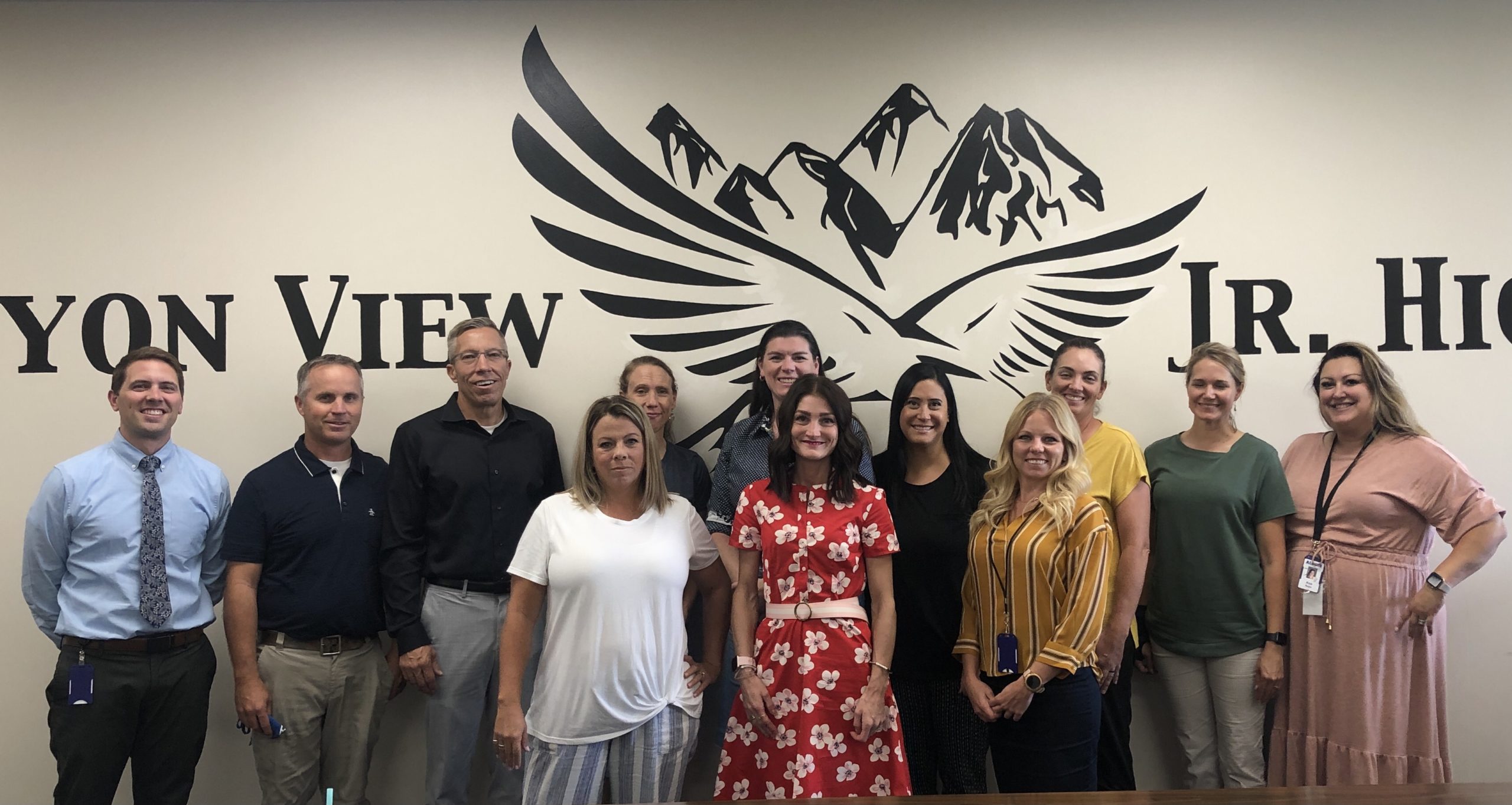 Back Row left to right: Grant Cotterell, John Lyman, Wade Lott, Lynne Kleson, Aerwyn Whitlock,  Corinne Bruno, Lindsey Ramage, Lani Hilton, Ana Rojas. Front Row left to right: Julie Walker, Megan Snow, Ashley Halladay. Not Picture: Mike May, Shelley Colton
Mission
The School Community Council is responsible to develop a yearly school improvement plan that is subject to the approval of the local school board. The school improvement plan identifies the school's most critical academic needs, and recommends a course of action to meet those needs. In addition, the council is responsible for the allocation of School Land Trust Funds. These funds are intended to be used for implementing components of the school improvement plan. Also, the council assists in the development and implementation of a staff professional development plan. Finally, they are to advise and make recommendations to school and school district administrators and the local school board regarding the school and its programs, school district programs, and other issues relating to the community environment for students.
Serving on the School Community Council
Serving on our School Community Council is a wonderful way for parents and teachers to contribute and help improve academic performance at our school. The school receives an annual dividend from the school trust lands. Our council decides how these funds will be used. This year our school received $92,000 from the School LAND Trust Program. The council reviews and prepares other academic plans for our students each year. All plans are reviewed for final approval by our school board. Councils also act in an advisory capacity to school and school district administrations.
Qualifications
Every public school in Utah has a School Community Council. The councils are made up of school employees who are elected by employees and parents who are elected by parents of students attending the school. Membership terms are for two years. Elections are held at the beginning of each school year. Parent members must have a student attending the school at least one of the two years of their term of service. Employees must be employed by the school district at the school.
For more information visit: www.schools.utah.gov/SchoolLANDTrust
2021-22 SCC Meeting Schedule
All meetings will be held in room 109
| | |
| --- | --- |
| September 13, 2021 | 2:45 pm |
| October 11, 2021 | 2:45 pm |
| November 8, 2021 | 2:45 pm |
| January 10, 2022 | 2:45 pm |
| February 14, 2022 | 2:45 pm |
| March 21, 2022 | 2:45 pm |
| April 11, 2022 | 2:45 pm |